Melinda Rodriguez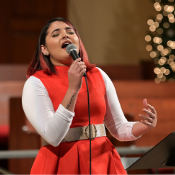 Ms. Rodriguez is the director of MCC's Rhapsody and Sforzando contemporary vocal ensembles. She is also the Assistant Choral Director at Miami Arts Charter. She began her musical journey right here in Miami and was a National YoungArts Winner in both 11th and 12th grade as well as the national Third-place winner in Michael Feinstein's High School Vocal Competition held in Indianapolis, Indiana. As a senior in high school, she received her first Downbeat Student Music Award for Jazz Vocal Solo Performance. Melinda is now a 4 time Downbeat award winner. Rodriguez has performed in jazz festivals around the country such as The Benny Golson Jazz Festival, The Litchfield Jazz Festival, and The Miami Downtown Jazz festival. 
Ms. Rodriguez holds a Bachelor of Music from Florida International University and a Masters in Jazz Performance from The University of Illinois where she also had the pleasure of serving a teaching artist. 
In 2019, she won 1st place in the International Ella Fitzgerald Jazz Vocal Competition, debuted with the Legendary Count Basie Big Band, and was featured on NBC's hit singing show, The Voice.