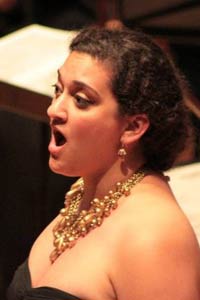 Carolina Castells – 1992 – 1996
Known for her rich timbre and compelling theatricality, soprano Carolina Castells is a versatile performer adept in both classic and contemporary operas. This season, her engagements include Mimì in La Bohème with Amore Opera, the title role in Tosca with Loft Opera, and Beethoven's 9th Symphony with the Idaho State Civic Symphony.
An accomplished performer of contemporary American operas, Ms. Castells has appeared as Emily Webb in the world premiere production of Ned Rorem's Our Town at Indiana University, Sarah Good in Robert Ward's The Crucible with Sarasota Opera, and the title role of Floyd's Susannah at the Brevard Music Center. She also made her off-Broadway debut as Sadie in Carlisle Floyd's Slow Dusk with the Little Opera Theatre of New York. Other engagements include Anna in Verdi's Nabucco with Opera Naples and Micaëla in Peter Brook's La Tragédie de Carmen with Florida Opera Theater.
Past seasons have included engagements with the Brevard Music Center, Des Moines Metro Opera, Florida Opera Theater, the International Vocal Arts Institute, Little Opera Theatre of New York, Opera Naples, Sarasota Opera, and the St. Petersburg Opera Company.
On the concert stage, she has appeared with Indianapolis Symphony Orchestra (Beethoven's 9th Symphony, Brahms' Deutsches Requiem, and de Falla's El sombrero de tres picos), Opera Naples (Mendelssohn's Elijah), the Masterworks Chorale (Deutsches Requiem), Seraphic Fire (Handel's Messiah and soprano soloist in the world premiere of Shawn Crouch's The Road from Hiroshima, A Requiem), the New World Symphony, and Symphony of the Americas. Additional concert performances include Verdi's Requiem, Beethoven's Missa Solemnis, and the title role of the Rossini oratorio Le nozze di Teti e di Peleo, as well as an appearance with Marilyn Horne's The Song Continues… series at Carnegie Hall.
She is the a 2008 Grand Finalist of the Metropolitan Opera National Council Auditions, a 2009 finalist of the Irma M. Cooper Opera Columbus International Vocal Competition, 2011 recipient of the Shoshana Foundation's Richard F. Gold Career grant, a 2014 semi-finalist for the Marcello Giordani Foundation International Voice Competition, and a 2015 Finalist for the Jensen Foundation Vocal Competition.
Ms. Castells is a graduate of Indiana University, where she performed Antonia in Les contes d'Hoffmann, the title role of Massenet's Cendrillon, Donna Elvira in Don Giovanni, and Magda in La rondine.
Q: Why did you stay with MCC?
A: I loved the music we sang. I had never really sung before and suddenly became exposed to so many composers and styles of music. I also made really good friends and had the opportunity to sing at really amazing places.
Q: What would you say are the three most important lessons you learned at MCC?
A: The first thing was just learning basic musicianship skills like sight-reading and being able to learn music quickly. I also learned the discipline needed to be a musician. I remember those huge black folders packed with music. It took a lot of work and focus to make it performance ready. But the most important thing I learned was how much I loved singing and working with other singers.
Q: How have the lessons learned while at MCC impacted your life?
A: I learned how to be a musician at a young age and that has been invaluable. It was an amazing thing to be a part of at so young an age. And I also learned that the people you are surrounded by stick with you. I still talk to some of the people I sang with more than a decade later. Also, the people you meet here are so encouraging and supportive. I did my undergraduate work with several ex-choristers and we just had all these memories from working together.