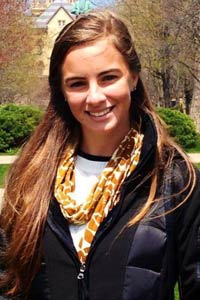 2005-2013
Catherine Levy graduated from Ransom Everglades Upper School in 2013 and was accepted to attend the University of Notre Dame. She graduated from the University of Notre Dame in 2017 and will start her career aspirations in NYC. In March of 2013, Catherine was featured in the Pinecrest Tribune's "Positive People in Pinecrest" as the Ransom Everglades School Silver Knight nominee in the category of Music. "Levy, says music has shaped her life, allowed her travel and given her many exciting adventures. Those adventures began when she was in the fifth grade and joined the Miami Children's Chorus" In addition to her work with the MCC, Catherine was a National Hispanic Scholar, an Advanced Placement Scholar with Distinction, and a member of the National Honor Society. She served as president of her school chorus, attended the Florida All-State Chorus for four consecutive years, and served as president of Symphonettes, a community service organization that raises funds to support community arts programs in Miami-Dade County.
Q: What would you say are the three most important lessons you've learned at MCC?
A: I think the most important lessons I have learned in MCC are the difference between good and great, that hard work always pays off in the end, and how to work as one with people. MCC has taught me so much not only in music, but in life. The lessons of hard work and determination as well as going the extra mile are going to help me in whatever path I choose in life.
Q: If you could tell Mr. Sharp one thing what would it that be?
A: I would thank him for pushing us to be the best we can be and for always believing in us.