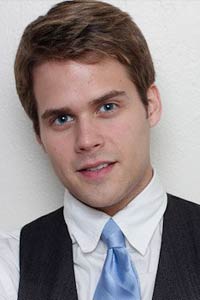 1995-2000
"Outstanding vocal soloist – the tenor Kyle Bielfield", acclaimed as "Singing superbly and acting with intensity," (The New York Times) is an American tenor whose career spans from opera to art song. Kyle began his career at a young age singing with the Miami Children's Chorus from 1995 to 2000.
Every once in a while a pop song bursts in from outer space to stop you in your tracks, and lift you to higher state of exhilaration. 'Frequency', the debut single from Bielfield is that song. A supremely funky and spirited release which boasts a feel-good energy and highlights a phenomenal new talent, unlike anyone else you've ever heard before. Bielfield is an US-born, singer/songwriter with a prodigious talent, signed to Sony Music Australia, getting ready to break out of Australia, ahead of his global rise to pop stardom.
Born and raised in Miami, Florida, Bielfield is a self-confessed pop fanatic who's written and performed pop music from an early age. Recognised for his musicality and talent, he went on to at attend New York University as an Undergraduate, before attending the prestigious Juilliard School for his Masters Degree. Over the years Bielfield released a couple of specialist albums and performed around the globe, but after completing his classical training he decided it was time to try something else and return to his love of pop.
"Right now it's becoming very cool in New York for a lot of younger classically-trained singers to go and experiment with pop music. With me it's almost like having two different characters inside of me, who have two different careers, and two different artistic objectives. When you listen to the music on this project it's about really personal life situations and intimate feelings, whereas classical music is a more traditional expression of art and society."
Whilst touring Australia in 2013/2014 Bielfield came to the attention of Sony Music who were extremely impressed with his breadth of talent, and signed the singer to a development deal which allowed him to develop his own sound.
"One of the first things I realised was that alongside the melodies, I would also have to write the lyrics myself because I'm not Australian and my diction is quite different. Anytime I would get suggestions from a writer it wouldn't match the way I naturally deliver my vocals. The only way around that was to write the lyrics myself so I was able to sing it properly. I've really spent the last six months becoming more of a songwriter and a lyricist. I've been working and co-producing with Louis Schoorl [Tina Arena, Guy Sebastian] who's helped me along my way."
Now living in his 'adopted-home' of Sydney since early 2014, Bielfield has spent time developing his pop musical-identity.
"It took a long time for me to work out the right style of music of me. It was really tough but it's really come together as something I'm proud to call my own. I feel like it's actually a different person making this record to who I was a few years ago. The truth is, despite my classical training, the only music I really sit down and listen to is pure pop, R&B and rap music, or classical music. I've never been a fan of the worlds meeting in some sort of fusion – I like one style or the other depending on my mood. I'm from Miami and so all we ever listen to on the radio is pop or R&B music. It's that side of me that's making music right now, and I'm loving it."