América Viva! 100 Voices at the II Panamerican Benefit Gala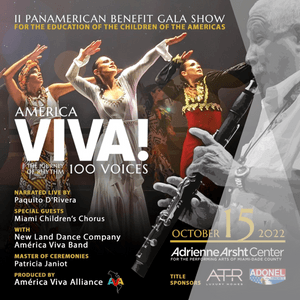 Narrated live by Paquito D'Rivera
Special guest Miami Children's Chorus
With New Land Dance Company and América Viva Band
Masters of Ceremonies Patricia Janiot and Miguel Varoni
Honoring Isabel Noboa and Paquito D'Rivera
Produced by América Viva Alliance
A top 10 show at the largest arts festival in the world (the Edinburgh Festival Fringe) and a Latin Grammy nominee, América Viva! (directed by Carolina Lizarraga) is a dance and music spectacular that celebrates the "mestizaje" of the Americas. With 30 dancers, musicians and singers from New Land Dance Company (directed by Daniela Tugues) and América Viva Band (directed by César Orozco), the show depicts how a "mestizo soul" was born in this continent out of the mixture of Indigenous, Spanish and African cultures.
The II Panamerican Benefit Gala show features América Viva! 100 Voices, an augmented version of the original show narrated by 14-time Grammy and Latin Grammy winner and National Medal of Arts recipient Paquito D'Rivera with 100 choristers from Miami Children's Chorus directed by Liana Salinas. They will be surrounded by video projections displaying stunning storytelling imagery for this journey of rhythm.
For more details & tickets click the link below.