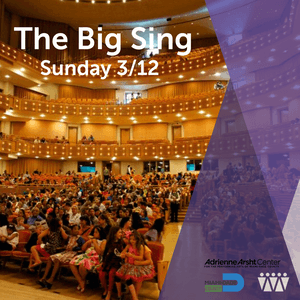 Join The Miami Children's Chorus and its friends - The Children's Voices Chorus, Miami Sound Space Choir, and The Civic Chorale of Greater Miami - for a fun filled community sing-along concert that is truly representative of our South Florida community. All are welcome and no previous singing experience is needed to join in. Together we'll explore and sing-along to songs in a wide variety of styles and genres, including opera, musical theater, pop, and even some original songs.
The Big Sing works towards a vision of a community where people of all ages can explore the joy of singing, and highlights the vibrant choral community we have right here in our neighborhoods! The project affirms that we can in fact be one united community; a community that comes together to sing, to speak, to listen, to learn, and to grow.
To that end, the program will conclude with an arrangement of the classic hit "Lean on Me" that incorporates the hymn "We Shall Overcome". You can prepare for the final number using the digital resources provided by the MCC.
Admission to The Big Sing is free, however, first-access passes* are required. First-access passes* will be available starting February 15, 2023.