Song of Us: Workshop & Community Concert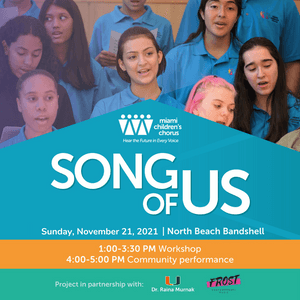 The "Song of Us," project gives young people the opportunity to tell their stories through song. It has three components:
1) a songwriting workshop
2) a community performance, and
3) a recording project to commemorate the 3rd anniversary of the project. 
Anyone ages 8-18 can participate in the songwriting workshop. In the workshop students will work with UM's Dr. Raina Murnak and UM Frost Contemporary student leaders to determine the songs theme and create the lyrics and melody for the various song sections. A free one-hour community performance follows the workshop and gives workshop participants the opportunity to debut their newly composed song.
Parents and family members are invited to join the Miami Children's Chorus for an uplifting community performance that is sure to have everyone singing along! Workshop participants will perform their newly composed song and MCC's premier choir and contemporary ensemble will perform. The performance is free and open to the public. For tickets visit https://www.northbeachbandshell.com/events#/events.