With a vision to create "A community where every child can explore the joy of singing." the Miami Children's has 3 projects to help achieve that view: All Together Now, We Will Sing and Bring on the Boys. Each has a different perspective to help increase the participation of youth in our community in choral singing.
All Together Now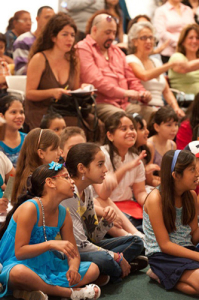 In 1999 the MCC started a series of free sing-alongs in various under-served communities in Miami-Dade County. All Together Now is a fun, interactive, family oriented project initiated by the MCC to promote unity through singing in all segments of the community.
All Together Now has two main objectives:
(1) Promote community singing by school age children and adults all across Miami-Dade County
(2) Promote the preservation of songs that reflect our multicultural heritage.
Currently this project is conducted in Homestead, Miami and Miami Beach. Timothy A. Sharp, MCC Music Director leads the singing at each event along with one of the MCC choirs. MCC can also provide one-hour sing-along presentations for local schools and community organizations for a fee. Call 305.662.7494 for more information.
Choir For All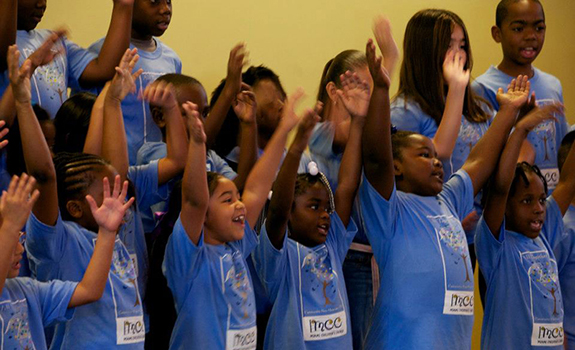 Choir For All is the MCC outreach choral music project in under-served communities in Miami-Dade County. CFA is conducted in partnership with social service agencies in Homestead, Miami and Miami Beach. MCC offers a free, complete choral music experience for children age 8-14 in their neighborhood. The children learn the importance of collaboration and teamwork in addition to gaining singing, performance and musicianship skills. Agencies that have participated in the project include Sweet Vine, Inc., Leadership Learning Center, The Thinking Child Academy, Abriendo Puertas and Playing the Game of Life.
Partnering Agencies • 2017-2018
TBA
Bring On The Boys

Bring on the Boys is a workshop for boys with changed and unchanged voices. At this event, boys experience the joy of being part of a choral group in a positive and supportive environment. The boys learn how to prepare to sing, how to make healthy vocal production and have fun interacting with boys from different parts of Miami-Dade County. Led by MCC Music Director, Timothy A. Sharp, this event is held at Miami-Dade College Kendall campus.
Established by the MCC in 2002, Bring on the Boys seeks to demonstrate to boys that singing in a chorus is a cool thing to do. This workshop explores the lifelong possibilities of making music through choral singing. Boys with changed and unchanged voices in public or private school and those being home-schooled are invited to join the boys of the MCC for a day of interactive music making.
The clinician for Bring on the Boys 2018 will be Fernando Malvar-Ruiz. An experienced conductor, lecturer, clinician, and a recognized expert in the adolescent male evolving voice, Mr. Malvar-Ruiz has guest conducted internationally including the Kodály Music Education Institute of Australia, the World Children's Choir in Hong Kong, the Czech Republic, Bermuda, and the Des Moines International Children's Choral Festival. For 11 years, he instructed the summer master's Program in Kodály at Capital University and since 2008 has served on the faculty of the Internacional De Verano de Direccion Coral y Pedagogoia Musical in Las Palmas, Spain. Mr. Malvar-Ruiz also regularly conducts honor choirs and choral festivals throughout the United States for ACDA and OAKE regional and national conventions.