Tuition + Fees
All choristers must pay a $100 registration fee to secure their spot in the program. The registration fee is separate from tuition and is non-refundable. Please see the table below for ensemble tuition rates.
| | Registration Fee | Yearly Tuition |
| --- | --- | --- |
| Minuet | $100 | $600 |
| Allegro | $100 | $680 |
| Sonata/Cadenza | $100 | $800 |
| Elective Ensembles | n/a | $360 |
Payments can be made in full or divided into monthly installments. A one time $25 service fee will be assessed when choosing to pay in monthly installments. Tuition scholarships are available through the Christie Prieto Memorial Scholarship Fund.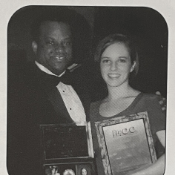 The Christie Prieto Memorial Scholarship Fund 
was established in memory of a former – long-time – chorister in the MCC. Christie was a leading member in the MCC from 1990 until her high school graduation in 2000. She distinguished herself in the organization with her strong commitment to artistic excellence, her focused discipline and her engaging personality. The fund was established to provide an opportunity for choristers in need of financial assistance to fully participate in the offerings of the Miami Children's Chorus. Current and former family members of MCC choristers generously support the CPMSF. Scholarship applications are available at the time of enrollment.