Timothy A. Sharp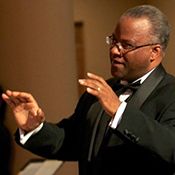 Timothy A. Sharp served as Music Director of the award-winning Miami Children's Chorus from 1990 through 2018. The Miami Children's Chorus counts on his guidance as it continues to develop the voices of our future and to share the joy of singing with the community.
Mr. Sharp earned his B.A. in Music Education from Bethune-Cookman University, M.S. in Music Education from the University of Illinois at Champaign-Urbana and received an Artist-Teacher Diploma from the Choral Music Experience Institute for Choral Teacher Education led by noted educator/conductor Doreen Rao, Ph.D. Mr. Sharp retired from his position as general music teacher at Vineland K-8 Center in Miami-Dade County, Florida in 2014. As a performer, he appeared with the FGO Chorus for five seasons. He has prepared children to appear in numerous productions of the FGO. He has presented workshops for the Florida Elementary Music Educators Association, the Virginia Choral Directors Association, the American Guild of Organist • Stamford Chapter and the CME Institute for Choral Teacher Education. Mr. Sharp has also conducted workshops at the Adrienne Arsht Center for the Performing Arts of Miami-Dade County on developing the child's voice and leads the MCC project Sing Miami! held at the Arsht Center. He is designing a new curriculum project for music education that will provide teachers the tools they need to make more purposeful teaching and learning preparation and execution. He has also appeared at the Arsht Center as a professional development facilitator for the Miami-Dade County Public Schools Division of Social Sciences speaking on African-American Spirituals.
Mr. Sharp has also served as guest conductor for the Miami-Dade County Public Schools Superintendent's Annual Honors Music Festival (Miami, FL), Broward County Schools Elementary Honor Choir (Ft. Lauderdale, FL) and the Norman Public Schools All-City Fifth Grade Chorus (Norman, OK). Mr. Sharp has been awarded a MAXIE award by the New World
School of the Arts in recognition of his contributions to the arts for children; named Educator of
Note by the Young Patronesses of the Opera and Arts Teacher of the Year by the Children's
Cultural Coalition. He is a Past President of the Miami-Dade County Music Educators Association as well as past Committee Chairperson for Children's Choirs and Ethnic and Multicultural Perspectives for the Florida Chapter of ACDA.