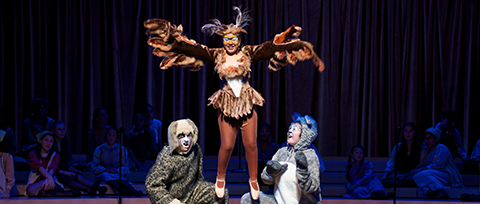 Saturday, October 27, 2012 the Miami Children's Chorus presented the children's opera Brundibar by Hans Krasa. This presentation was part of Sing Miami 2012 held at the Adrienne Arsht Center for the Performing Arts of Miami-Dade County. Performed in the Knight Concert Hall, this event was part of the Arsht Light/The Holocaust & Humanity Project. This program was "a three-month long, county-wide human rights colloaboration" that focused on protecting human rights against bigotry, hatred and bullying.
Music Director Timothy A. Sharp conducted this MCC performance with stage direction and choreography by Cornelia "Corky" Dozier. With a professional core of instrumentalists, the audience was treated to a full-length multi-media production of the celebrated children's opera. This presentation was sung using the English translation by Josef Karas.
The show opened with Ani Ma'amin sung by the MCC as the children came from off-stage and through the audience to an accompaniment of violin and piano. After Brundibar, Maestro Sharp led the audience in the singing of two songs by Nick Page – Shine, Shine, Shine and A Promise I Will Keep. The enthusiastic and appreciative audience left with "the promise" to help eliminate hatred and bigotry in all forms in our world.