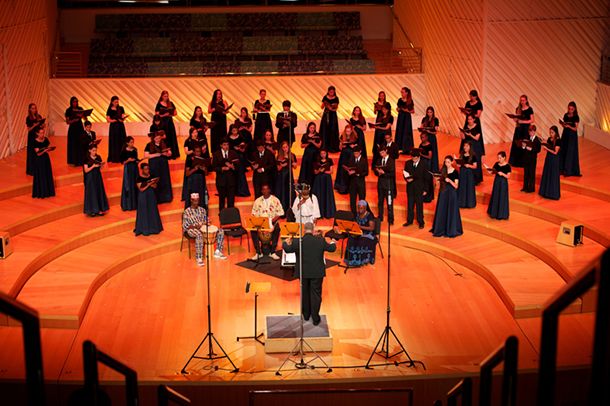 In early May the sounds of African drums and faint whispers of Shona (language of Zimbabwe), Latin, Spanish, French, and English resonated through the halls of MCC's rehearsal site as choristers prepared for one of the most exciting concerts of their 2012-2013 season. The concert, titled A Voice With A Future, was held on Saturday May 11, 2013 in Miami Beach's stunning New World Center, and featured world premier performances of two works commissioned by the organization, the first performance of Lee Kesselman's complete Shona Mass, and the first complete recording of Francisco Nunez' Four Spanish Lullabies.
The MCC prides itself on performing repertoire that is engaging, challenging, and appropriate for developing young voices, and its artistic mission recognizes the musical excellence of past composers as well as the creativity of present composers. To that end, through its New Works for Children's Voices project, MCC commissions new works by composers from around the globe, such as David Brunner and Grammy-Award winner Eric Whitacre. To date the MCC has contributed 35 new works to the children's chorus repertory, which are widely performed.
A Voice With A Future featured new works from Haitian-American composer Sydney Guillaume and New York based composer Jim Papoulis, both of whom traveled to Miami to work hand-in-hand with MCC choristers as they made the final preparations for their performance. This direct interaction with living composers gives MCC choristers a distinctive opportunity for artistic growth; as they discuss and explore musical nuances in each piece directly with the composers.
In addition to the two world premieres, the concert showcased many of Miami's top professional musicians who accompanied the chorus in other contemporary multicultural works. Through A Voice With A Future, the MCC was able to showcase the promise of our South Florida youth as the catalyst for a joyous, energetic, creative, diverse, and hopeful tomorrow.