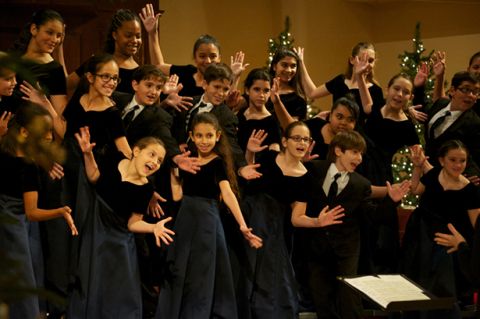 Here's your chance to shine as a member of the award-winning Miami Children's Chorus. Call today – 305.662.7494 or visit the MCC web site – www.miamichildrenschorus.org – to find out how you can add your voice to the MCC in the 2013-2014 Season.
Have a passion for singing & performing? MCC is the place for you. Love to make new friends and enjoy working with others? MCC is the place for you. Want to develop your singing skills and learn how to make music like a pro? MCC is the place for you.
MCC develops character, commitment and passion in children by providing a supportive and nurturing environment where youth can grow their skills as practicing artist.
The Miami Children's Chorus has provided choral singing instruction since 1965, offering South Florida youth the opportunity to study and perform traditional and contemporary choral music. In weekly rehearsals members of the Miami Children's Chorus learn healthy vocal technique, how to read & analyze music, aural listening skills and a professional disposition. All instruction is aimed at developing the young singer's ability and skill set as a practicing young artist.
To audition, visit www.miamichildrenschorus.org, click on Join and download an application form. Complete the application form and return to the Miami Children's Chorus. Once the application is received, an MCC staff member will be in touch to schedule the audition. The audition takes about 15 minutes and is meant to identify the musical capacity and current abilities of each auditioning child and will determine which MCC ensemble is the best fit for them.
"Here at MCC we find great pride in helping our South Florida youth achieve artistic excellence. We foster a team-like environment, that strives for the betterment of the collective group, and know that only with intense dedication is true greatness achieved – we can't wait to welcome our new members in the fall and begin laying down the foundations for their artistic journeys!"