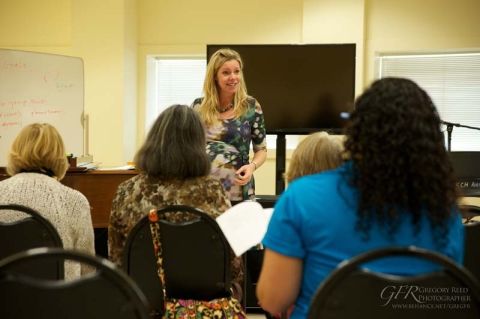 The Miami Children's Chorus continued its 2013-2014 season with Sing Miami! a presentation at the Adrienne Arsht Center that included a free music teacher development workshop and a free community sing-along on Saturday, November 9, 2013.
Dr. Cara Tasher, Director of Choral Activities and Associate Professor of Voice at the University of North Florida, served as the workshop clinician. Dr. Tasher's energetic presentation focused on developing the knowledge and skills necessary for 21st century music teaching and learning. The workshop provided South Florida music educators with an opportunity for continued learning and deeper understanding, giving attention to the science as well as the art of teaching, so that educators while anchored in pedagogy can at the same time feel freed to use their imaginations and creativity.
The second portion of Sing Miami – a free community sing-along and performance led by MCC Music Director, Mr. Timothy A. Sharp, provided the community with chance to join together, singing, clapping, and dancing to songs that all people can enjoy throughout their lifetime. This interactive sing-along had the audience over 300 – families, seniors, and kids of all ages – exercising their vocal cords and making new friends. With MCC's Beginning & Intermediate choristers as their guide, everyone was making music in no time!