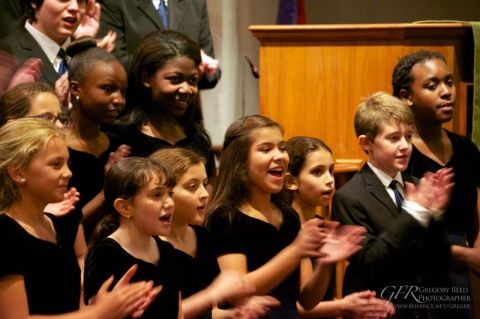 "Where the Music Comes From" – Miami Children's Chorus opens the 2013-2014 season
Coral Gables, FL – The sound of 60 harmonious voices rang out on Lincoln Road this past Saturday, October 26th as the Miami Children's Chorus gave the first performance of their 2013-2014 season at the Miami Beach Community Church. The concert, titled Artistry of Youth, featured the MCC Avanzato ensemble and MCC Alumni Sarah Nicole Batts (soprano) and Kyle Bielfield (Tenor), who performed with great passion for an audience of close to 300. The concert showcased the talent, sensibility, proficiency, and skill of South Florida youth. The opening line of the very first song, "I want to be where the music comes from…", delivered a powerful message and got right to the point of the evenings concert.
MCC provides the foundation for a lifetime of success, a fact made evident by MCC's invited alumni performers who wowed audiences with their obvious talent and emotive performances. Both Sarah and Kyle spoke of the tremendous impact the MCC, formerly the Miami Choral Society, had on their lives. They expressed their gratitude for having had the opportunity to be a part of the organization, and recognize that participating in the MCC gave them much more than a strong musical foundation to embark on a music career – they learned poise, humility, artistry, discipline, and professionalism.
Later in the concert MCC Avanzato continued delivering messages, singing… "Can you hear my cries, I am calling out to you!"… "Stay the course, light a star, change the world where ever you are"…"Chante! Pour la liberte" (Sing for liberty) "Give us hope and we'll show you the way, my voice is calling!" As the group of 60 young singers joined together singing as one, their message was loud and clear. Though they are still quite young they understand that they have the power to affect and inspire change; that with their voices, with commitment, passion, and artistry anything can be achieved!