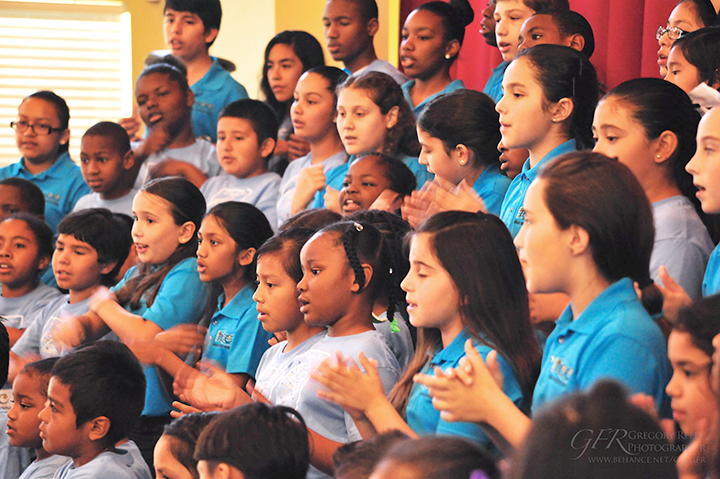 With a vision to create "A community where every child can explore the joy of singing." the Miami Children's has 3 projects to help achieve that view: Bring on the Boys, All Together Now, and We Will Sing. Each has a different perspective to help increase the participation of youth in our community in choral singing.
This season, and through these projects alone, the Miami Children's Chorus was able to bring the joy of singing to more than 300 South Florida boys and girls, in addition to the 150+ members of the Miami Children's Chorus.
In early February, MCC invited Miami-Dade County boys with unchanged voices – age 8-13 – in public or private schools and those being home-schooled, to join the boys of the MCC and the men of Maelstrom [UM] for a morning of interactive music making at MCC's Bring on the Boys. The workshop, presented at the University of Miami Frost School of Music has offered boys the opportunity to learn what their voice can do for 13 years now and every year more and more boys come out to join in the singing fun. Close to 100 boys participated in MCC's Bring on the Boys workshop this season, and their friends and families were astonished as they heard their children perform 5 new songs at the free recital following the workshop. With the support of Mr. Sharp, the Miami Children's Chorus, and the University of Miami's Frost Men's Chorus – Maelstrom – boys were inspired, learned to express their artistry, and experienced the sense of pride that comes with each successful performance.
In early March, MCC presented the first installment of its All Together Now, community sing-along project. The entire community was invited to join the MCC for an afternoon of singing at the William B. Dickinson Community Center in Homestead Florida. Adults and children of all ages were making new friends while exercising their vocal cords! All Together Now brought out the inner child in everyone as they engaged humming, clapping, and singing songs that can be enjoyed throughout a lifetime. In addition to the sing-along portion, the event featured performances by the MCC Intermediate Chorus and by the children from Redland Christian Migrant Association, The Thinking Child Academy and Sweet Vine Inc. who participated in MCC's choral outreach project titled We Will Sing.
We Will Sing is a project created by the MCC to further its reach and impact on the community. It is a FREE semester-long choral experience that promotes: singing by school aged children, the preservation of songs that reflect our multicultural heritage, and a unified sense of community. The goal is to provide access to quality arts programming for children who otherwise may not ever have the opportunity. In weekly rehearsals, children learn to find their voices, explore how to warm-up, read music, and most importantly how to work together to achieve a common goal. All Together Now presents them with an opportunity to showcase their newfound skills and to experience first hand the rewards of a sustained and dedicated effort.
Did you miss out on the sing-along fun? Not to worry! You have one more chance to join the Miami Children's Chorus and to find out what your voice can do! The second installment of All Together Now will take place on Saturday, April 12, 2014 from 11:30 AM – 12:30 PM at the North Shore Park and Youth Center – 501 72nd Street, Miami Beach, FL 33141, and will feature performances by the MCC Beginning Chorus and by MCC's We Will Sing community choirs from The Leadership Learning Center and Playing the Game of Life.