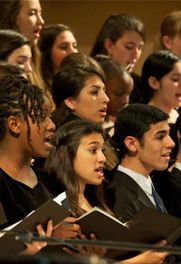 Witness the youthful energy and artistic excellence of Miami's finest young singers in concert on Sunday, May 11, 2014 • 5:00 PM at the New World Center in Miami Beach.
The concert, titled Cantare, will feature MCC's Avanzato Ensemble performing a cappella, with piano and chamber orchestra accompaniment, original choreography and performance by Dance Now Miami, and the world premier of two works commissioned by the MCC from award winning composer Dr. David Brunner & Latin Grammy winner Nestor Torres.
With a vision of a community where children can explore the joy of singing, the Miami Children's Chorus has proudly served South Florida for nearly 50 years. Throughout its long history, MCC has prepared children to appear and record with artists in a wide variety of musical settings. They have sung with the Cleveland Orchestra, the Israel Chamber Orchestra, at Super Bowl with Queen Latifah, with André Rieu, Gloria Estefan, Jon Secada, and Raul Di Blasio. MCC has performed numerous productions with the; Florida Grand Opera – La Bohème, Tosca, Carmen, Turandot, Pagliacci, former Florida Philharmonic Orchestra, Master Chorale of South Florida, Miami Bach Society, at Sunday Afternoons of Music for Children, and Festival Miami.
Here is something else you may not know. The Miami Children's Chorus has been commissioning new choral compositions for youth voices, under the leadership of long-standing Music Director Timothy A. Sharp, since 1992! In fact, to date, the organization has added 37 new works to the children's chorus repertoire, many of which are published and performed by children around the globe. This sets the MCC apart from other children's ensembles, as they have become active participants in the creation of a musical legacy. Commissioning new works gives members of the Miami Children's Chorus an edge over other singers. It gives them the opportunity to work with and learn from living composers and to collaborate with professional instrumentalists who accompany them in performance. Additionally, this process affords composers a unique opportunity to glimpse into the children's choir world and a chance to explore the intricacies of composing for youth voices.
"It is a great pleasure to collaborate with Timothy Sharp and his wonderful Miami Children's Chorus", Torres remarks. "My composition, 'Successors", is a musical multicultural fusion that gives voice to young people's profound aspirations to succeed and be guided by their elders and mentors on the correct path to happiness."
Nestor Torres' multifaceted career spans over 25 years and includes 14 Cds, 4 Latin Grammy nominations, 1 Latin Grammy Award and a Grammy nomination, as well as collaborations with the likes of Tito Puente, Herbie Hancock, Ricky Martin, Dave Mathews, Kenny Loggins, Gloria Estefan, and performances with, among others, The New World, Cleveland and Singapore Symphonies. Mr. Torres continues to expand his artistic horizons; he recently played and sang the part of Sky Masterson in a concert production of 'Guys & Dolls' and later this year will be presenting the stage choreographic production of his upcoming CD, 'My NeoTango Dance'. As an educator, Nestor Torres has taught and lectured at the University of Southern California, University of Warwick in England, and University of Akron among others. He is also the recipient of the Soka Art Award, Min-On Award of Highest Honor, SGI USA Liberty Award, Italy's New Renaissance Award, Singapore's Golden Lion Award, as well as two Honorary Doctorate degrees for his commitment to youth, education, and cultural exchanges.
The Miami Children's Chorus has collaborated with Mr. Torres on previous occasions and they are very excited to perform and add his song to its list of commissioned works. MCC's music director said, "When we are thinking of composers and musicians to approach for a commission, we consider how they will write and collaborate with our children. In other words we are not interested in watered down works, we want pieces that will challenge the musicality and artistry of our singers. We are looking for individuals who are interested in writing for our children because they respect their talent and artistry. Nestor is a perfect example of this."
Another perfect example, Dr. David L. Brunner, Professor of Music and Director of Choral Activities at the University of Central Florida. Dr. Brunner has been a long time friend of the Miami Children's Chorus having written pieces for the group on three other occasions; Yo le canto todo el dia (1995), Psalm 150 (2001) and Sir Brother Sun (2006). He is well known for his work with singers of all ages, appearing as a popular honor choir conductor, clinician and composer in thirty-four states and internationally in Canada, the U.K, Europe, Australia and Japan, including the American Choral Directors Association, Music Educators National Conference and American Guild of Organists, the Association of British Choral Directors and the Kodaly Societies of Canada and Australia, the International Cathedral Music Festival at Salisbury and Canterbury, the International Honor Band and Choir Festival at the Hague and Brussels, and the Choral Music Experience International Institute for Choral Teacher Education in England, Scotland and Wales.
Brunner is described as being an imaginative composer, and has received yearly ASCAP awards since 1997. In 2000 he joined a prestigious group of American composers when he was named Raymond W. Brock Commissioned Composer by the American Choral Directors Association. The New York Times has noted him as a "prolific choral writer whose name figures prominently on national repertory lists".
MCC Music Director had this to say, "We are always thrilled to collaborate with David. He is extremely thoughtful when choosing the text for his pieces and masterfully creates stunning and evocative music that accurately bring the words to life. He has great respect for the work our chorister do and we have great respect for the work he creates!"
A new friend to the MCC, and also featured on the May 11th concert, is Dance Now Miami! Dance Now was founded by Diego Salterini and Hannah Baumgarten through a chance encounter at a South Florida dance collective. The two quickly became dance partners and creative collaborators. Dance Now brings together their diverse backgrounds in ballet, modern dance and jazz, to create a poetic narrative and theatrical artistry filled with fierce athleticism. They will be choreographing and performing a contemporary dance piece to Dr. Brunner's new work.
Presented in 10 States and three continents, Dance Now's contemporary style has received critical and popular acclaim both at the local, national and international level. The company's work has been presented by Ballet Estable del Teatro Colon, Teatro José Francisco Saybe San Pedro Sula, Teatro Municipal, Sao Paulo, the Carefree Music Festival, Scottsdale Center for the Arts, Pima Center for the Arts in Tucson, the Art and Culture Center of Hollywood, Florida Dance Festival, Dance Gallery Festival of New York, Miami International Hispanic Ballet Festival, Interlochen Center for the Arts, Cincinnati Conservatory and Central Florida Community College, among others. Dance NOW! has garnered awards such as: Best Experimental Dance Company, Best Dance Piece, Best Choreographers (Miami Sun Post), Top Ten Dance Events of the Year (Miami Herald) and the 2010 Miami ArtZine Visionary Award.
"We are used to hearing works come to life and are excited at the opportunity to now SEE our commissioned works come to life with the help of our friends at Dance Now Miami!" says MCC artistic administrator Analy Mendez.
Give the gift of song this mother's day and experience the artistry of the Miami Children's Chorus as they perform with their friends Nestor Torres, Dr. David Brunner and Dance Now Miami. For tickets visit newworldcenter.com or call 305.673.3331. For more information about the Miami Children's Chorus visit www.miamichildrenschorus.org or call 305.662.7494.