Analy Mendez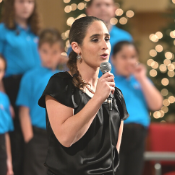 Ms. Annie was a member of the Miami Children's Chorus from 1997-2005 and has served as the organization's Executive Director since 2018. In her position she helps carry MCC's legacy of artistry and excellence crafted by Music Director Emeritus Mr. Timothy A. Sharp. She also serves as Conductor for the Minuet chorus, and previously served as MCC Artistic Administrator and Community Choir Conductor from 2010-2014. 
In 2014, Ms. Mendez was given the opportunity to develop and lead the after-school and school music program at The Thinking Child Academy in Homestead. She served as Program Director from 2014-2018. The grant she co-wrote and secured was awarded a multi-year contract that was vital in bringing not only quality after-care but also quality arts and science programming to hundreds of children in South-Dade. 
From 2010-2016 Ms. Mendez served as Music Director for the Heroines Choir of Miami, a non-profit adult community choir for breast cancer victors, and as Children's Choir director at St. Stephen's Episcopal Church from 2013-2020. 
She is a Miami native, a New World School of the Arts graduate, and holds a BA in Music with an emphasis on Voice, and a Masters in Music Education from The Boston Conservatory.