Liana Salinas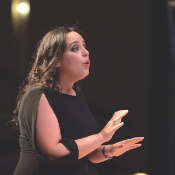 Ms. Salinas has been a part of the MCC family for 20 years. She  began her journey with the chorus at eight years old and  simply never left. During her 10 years as a chorister, Ms.  Salinas received the Christie Prieto Outstanding Chorister Award in 2006 and 2008. She remains the only chorister to have ever received this distinction twice. Upon graduating  from the chorus, Ms. Salinas became the Intermediate Chorus  Rehearsal Assistant under the guidance of Joanna Habermann,  and later Dr. Kate Longo. 
Ms. Salinas holds a Bachelor of Music with a specialization in  Music Education, and emphasis in jazz, from the University of Miami's Frost School of Music and is currently pursuing a Choral Conducting Masters from the University of Miami. She served as MCC's Assistant Music Director and Intermediate Chorus Conductor  from 2013-2018. In this role, she worked hand-in-hand with her lifelong mentor Mr. Timothy A. Sharp. 
Ms. Salinas is the CEO and Founder of My Music Match, a company which seeks to provide the best possible  private lesson environment for students, teachers, and parents, by matching students with teachers and creating  personalized lesson plans. She also served as the Assistant Director of the Miami Jazz Cooperative Voices, a  community jazz vocal ensemble under the direction of Larry Lapin, founder of the University of Miami's acclaimed  Jazz Vocal Program. Ms. Salinas is also a proud member of the Rotary Club of South Miami through which she  lead's the Rotary Jams series--a project which supports arts education and provides a platform for local artists to  perform and collaborate. 
Ms. Salinas served as Miami Arts Charter School's Associate Choral Director from 2012-2017. She has worked with  several merited music education programs, both locally and abroad, including the University of Miami's Frost  Preparatory Program, the Community Arts Program, Share the Music, Litchfield Jazz Camp in Connecticut, and  Jamaica Music Camp. Ms. Salinas has had the honor and the pleasure of collaborating with world renowned  musicians including Juan Luis Guerra, Juanes, Darmon Meader, and Sydney Guillaume.