Our Nature to be Heard CD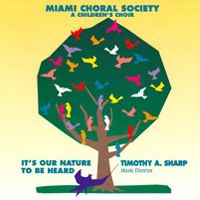 Miami Children's Chorus
Timothy A. Sharp – Music Director
Linda Byrd – Principal Accompanist
Resonet in Laudibus
Brother James's Air
Duet from Cantata No. 37
Noël des Enfants | Three Rhymes – Set 1
The Swing
Where go the Boats?
The Land of Counter pane
Where the Music comes from
Vem Kan Segla Förutan Vind
On Suuri Rantas Autius
Agleta
My Lord What a Mornin'
I'm Goin' Up A Yonder
The Storm is Passing Over
Go where I Send Thee
Son de la Loma
Yo le canto todoel dia
Are You Sleeping, Brother John?
*Commissioned by the Miami Children's Chorus through New Works for Children's Voices – the MCC Commissioning Project.