The Miami Children's Chorus envisions a community where children can explore the joy of singing. The mission of the Miami Children's Chorus is to provide a music education and performance program for youth age 8-18 in Miami-Dade County. The MCC seeks to continuously enhance the cultural life of South Florida by providing choristers and audiences with an organization that teaches respect, teamwork, commitment, collaboration, artistic integrity and dedicated effort. Learn more and get involved.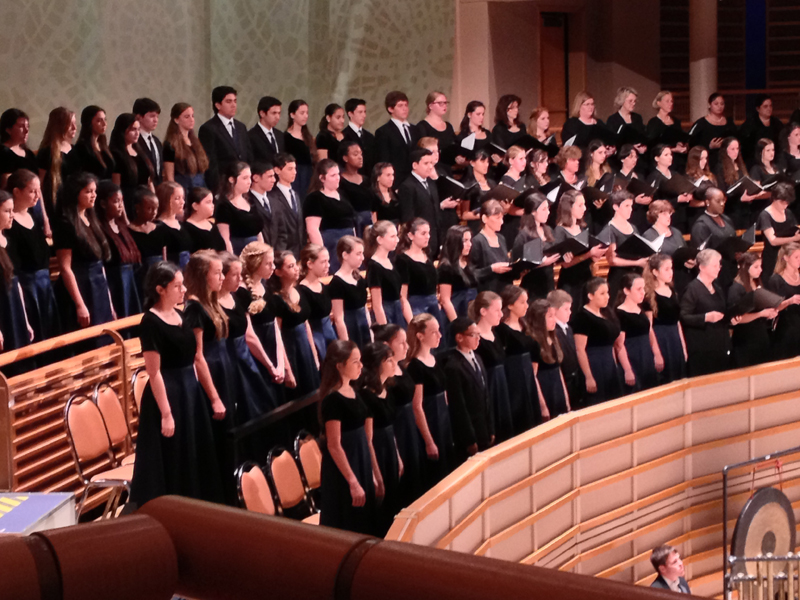 News & Events
Rescheduled for Sunday, May 6, 2018 4:00PM at All Souls' Episcopal Church 4025 Pine Tree DR
The conception of An Immigrant's Journey started in the Miami Children's Chorus many years ago. From its diverse programming to its commissioned works, MCC has understood the value of inclusion. This project, sponsored in part by The Miami Foundation through its Community Grants program, seeks to build community by focusing on two populations – Haiti and Venezuela.
Composer Sydney Guillaume states: "We have to get past thinking of Haiti only in terms of hurricanes and election monitoring." This is the 7th MCC commission of Mr. Guillaume. Praised by the Miami Herald for their "impressive maturity and striking melodic distinction", Sydney Guillaume's compositions are known to be intricate, challenging and yet highly spirited. They promote human values and are full of heart and passion. His latest piece for MCC Réfugié Mon Frère exemplifies that standard in a momentous way. It is written for string quartet, piano and children's chorus.
Composer Cristian Grases is an Associate Professor in the Thornton School of Music at the University of Southern California. Most recently he conducted the 2018 Florida All-State Middle School Treble Chorus in a groundbreaking program that featured a brand new composition written by him for the occasion. For the MCC he has crafted La Esperanza del Caminante. It is also written for string quartet, piano and children's chorus. Dr. Grases says, "For us migrants, parting with one's home is an experience filled with internal conflict. It implies leaving all that is familiar: our family and friends, our food, our culture and traditions, our language, our scenery and smells, our weather, our music, and so much more. Even though leaving our countries might be a necessary choice, it is filled with nostalgia."
This concert will take place 4:00PM Sunday, May 6, 2018 at All Souls' Episcopal Church in Miami Beach. Tickets are $20 for adults and $7 for MCC Alumni, Children and Seniors.
Want to use your voice like a star? Then you should be a member of the Miami Children's Chorus. Request for new auditions are now being received for the MCC 2018-2019 Season. With new community projects, a children's opera featuring alumni soloists and singing at some of the best venues in Miami-Dade County, MCC is still the one for developing vocal excellence for youth age 8-18. Visit our website to learn how you can join the MCC 2018-2019 Season. http://miamichildrenschorus.org/join-explore-mcc/
Members of the Miami Children's Chorus will join Orchestra Miami for a magical presentation of Mozart's The Magic Flute. The opera will be performed in English with three performances at the Miami's Scottish Rite Temple – 471 NW 3rd ST.
Choristers from the MCC will play the role of the three spirits. They help Tamino weave his way along his journey. Perhaps the most magical moment is when they save Papageno from a tragic ending by suggesting that he play his magic bells. When he does Papagena appears and they sing a memorable duet on their want of a large family.
All performances will take place at the Scottish Rite Temple:
Friday, May 11, 2018 • 8:00PM
Saturday, May 12, 2018 • 2:00PM
Sunday, May 13, 2018 • 2:00PM
Tickets can be purchased by visiting www.orchestramiami.org/magic-flute
Miami Children's Chorus provides a wide variety of performing opportunities for its choristers. Children can participate in one of three levels
Read more.

If beauty is in the eye of the beholder, BEHOLD our upcoming events!
Read more.

The award-winning Miami Children's Chorus offers a host of volunteer opportunities for MCC families and members of the community.
Read more.