The Miami Children's Chorus envisions a community where children can explore the joy of singing. The mission of the Miami Children's Chorus is to provide a music education and performance program for youth age 8-18 in Miami-Dade County. The MCC seeks to continuously enhance the cultural life of South Florida by providing choristers and audiences with an organization that teaches respect, teamwork, commitment, collaboration, artistic integrity and dedicated effort. Learn more and get involved.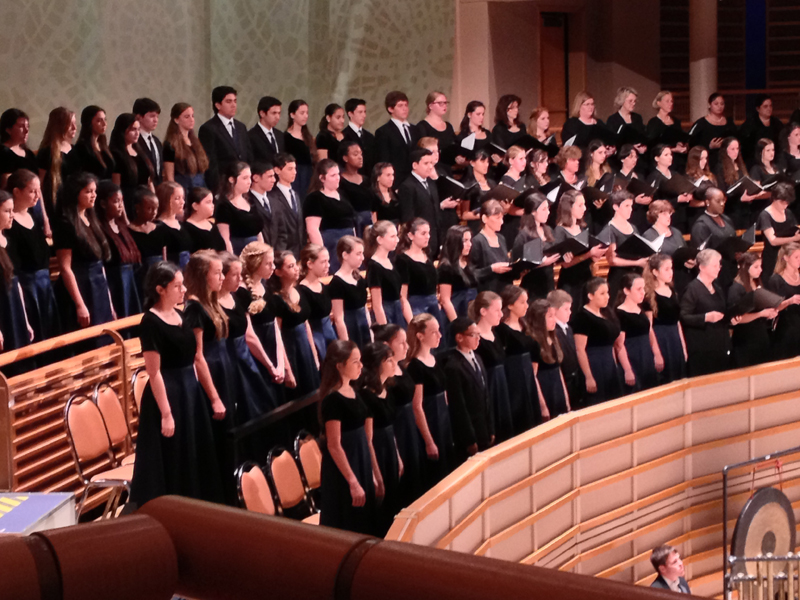 News & Events
Stellar World Premier Offerings!
The MCC concert An Immigrant's Journey was highlighted by the stellar world premier performance of Réfugié Mon Frère (Sydney Guillaume) and La Esperanza del Caminante (Cristian Grases). The chorus sang with a passion and fervor that complimented the well-crafted commissioned offerings. They were complimented exquisitely by the Bergonzi String Quartet who opened the afternoon with a work by Wolfgang Amadeus Mozart, Punto from Danzas de Panama by William Grant Still, and an arrangement by 1st Violinist Scott Flavin of Danza Ecuatoriana. Their magnificent playing displayed a high level of artistry and gave positive energy to the choristers.
An Immigrant's Journey sought to pay homage to communities often viewed in a negative light in our community. One audience member welcomed the intention by the MCC with: "The inclusion of songs in both French and Spanish; recognizing the Haitian community for their work and valuable asset to the community." Respect and empathy were our goals and we set a path to show that through this event.
Sometimes you hear a group and you go, "That was nice." And sometimes you hear something that move you to clap louder than you ever have before, cry just a little or smile more broadly than you have in a long time. Sunday, May 20, 2018 the youth of the Miami Children's Chorus evoked those emotions and more in their season ending concert.
The graduating seniors spoke recalled memories of their time in the MCC and gave thanks to those who nurtured them along. The six graduates averaged 8 years in the MCC. We will certainly miss their leadership, their commitment, their artistic excellence and most of all their beautiful character. We wish them well as they start a new chapter of their lives.
The ADV Chorus started the afternoon with the dulcet tones of On suuri sun rantas autius. The solo by Alexandra Berros was a very moving way to begin the concert. Their set closed with an inspiring The Lord's Prayer. The INT Chorus took us on a musical journey that included American folk songs; a German folk song; a cuban son; and for good measure a South African Freedom Song. There dancing and diction were impeccable. Then came the BEG Chorus with a stellar diverse offering that highlighted their tremendous growth. They sang unison, 2-pt and 3-pt. songs. From the first song taught in a public school – O Music by Lowell Mason – to Sally Gardens, Crawdad Hole and Galop they wowed the audience with their spirited singing.
2017-2018 saw the commission of two new works for the MCC. Réfugié Mon Frère (Sydney Guillaume) and La Esperanza del Caminante were given there second performance at Let the Children Sing. Well-crafted works were given a well-nuanced rendering by the string quartet, percussionist that joined the choristers of the MCC. Thank you to the Miami Foundation and Miami-Dade County (Youth Arts Miami Grant) for your support of these new works.
Miami Children's Chorus provides a wide variety of performing opportunities for its choristers. Children can participate in one of three levels
Read more.

If beauty is in the eye of the beholder, BEHOLD our upcoming events!
Read more.

The award-winning Miami Children's Chorus offers a host of volunteer opportunities for MCC families and members of the community.
Read more.